Welcome to Gary Walker's Homepage
This page is an on-going project and should be considered always under construction. Check regularly for changes.
Gary Robin Daniel Walker is the husband of Patricia Dunham, and with their son, form the household called Ravensgard.
Gary is a Canadian citizen living in the United States (Patsy is American). He was born in Vancouver, British Columbia to Mr and Mrs H. Walker and has three brothers and two sisters. He lived for some years in Victoria, BC before moving to Eugene, Oregon. He is rather homesick and hopes to return to Canada as soon as is practical.
See: Canadian Government Information. The only reference to his ancestry we have so far found on the web is this Obituary of Edwin M. Day along with the Roster of the 146th Illinois Infantry Company H (updated 2013/11/30).
Gary has a general interest in early tools and technology, particularly woodworking and metalsmithing.
See the references under jewelry on the Medieval Costume and Textiles page, and blacksmithing and woodworking on the Medieval Arts and Crafts page. In addition see: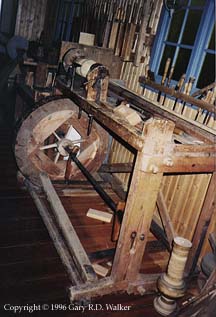 Gary has other interests as well:
Astronomy
Classical Music
Electronics, Mechanics, Steampunk, Particle Physics, and Creative Making
Models
Seashells

Organizations
General and Background
Specific types
Regional

Space and spacecraft
Stamps
Submarines
Our various household interests, see Ravensgard
---
Last updated 2013/11/30.
webmaster at ravensgard.org